Stocklands Self Storage – 8 Parkside Drive, Condon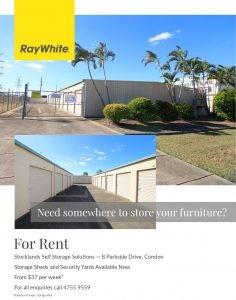 Providing Self Storage Solutions For Townsville at a Budget Price – From $37* Per Week!
We offer storage sheds and security yards for rent. Stocklands Self Storage solutions are clean, dry and competitively priced – for customers wanting to store goods with minimal fuss and on a budget. We also provide easy 24 hour access and there are security cameras located onsite. No long term contracts required – sheds are available for week to week rent, or month to month rent. Call now on 4755 9559 or email kirwan.qld@raywhite.com and speak to one of our friendly staff for more information.
Storage Sheds Sizes and Pricing:
Size Measurements Price
8.5m2 3.76m x 2.27m $147.34 per month
11m2 3.76m x 2.90m $156.00 per month
11m2 3.08m x 3.64m $156.00 per month
11.5m2 4.66m x 2.50m $156.00 per month
24m2 7.30m x 3.22m $268.67 per month
24m2 7.30m x 3.22m $294.67 per month POWERED SHEDS
*Please call the office for a quote if you are looking to rent a security yard
Features:
Locally owned
Friendly staff
Flood free
Personal storage – domestic – residential sheds
Trade storage – commercial sheds – deep trade sheds for added convenience
Business storage
Small, medium, and large storage units available
Powered and unpowered sheds available
Storage yards and shipping container storage
Easy access 24 hours / 7 days a week
Affordable and competitively priced
Easy ground level access with room to move
Easy storage rental and payment options available
Just box it, store it and lock it
Content insurance is available
Member of the Self Storage Association of Australia
Storage Hints and Tips
Easy access – consider what items you may need access to while in storage.
Label containers, cartons and boxes with a brief description.
Pack & store boxes room by room, this helps with easy identification.
Pack heavy items into smaller boxes and label as heavy.
Remove batteries prior to storing.
Reduce moisture in the wet months – damp rid or similar products are available at your local supermarket.
Fragile items – use additional wrapping materials between each item and label as fragile.
THINGS NOT TO STORE IN STORAGE FACILITIES
Dangerous, hazardous, illegal, stolen, environmentally harmful goods, explosives, inflammable, paint, chlorine, acid, petrol, and perishable goods.